An Autumn in Sitka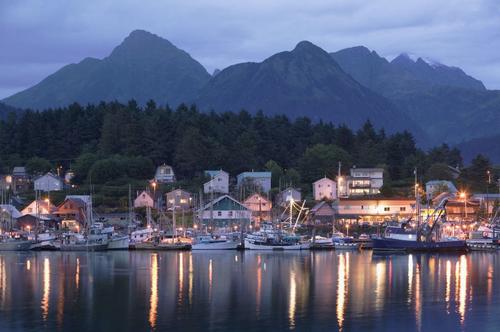 ---
Winter is coming to Sitka.
However, the people who live here have nothing to fear:

Only the encroaching shadows
of 24-hour nights that bring out the crepuscular
and the nocturnal to life; the frigid starlight
completely nullifies the fiery ardor
of the fishermen in the iced-over harbor.

Autumn is when the sun crosses the horizon and stays there.
When she fully wanes, Lady Alaska enters a deep slumber:

The town is snowbound for the rest of the year;
those stranded outside have their days numbered.

Where the variegated leaves fall into the silent ravines,
canyons carved by the routine rippling of rivulets,
where evergreen trees are spruced by fine powder-snow crystals
and the countryside turns brown and gray all-around.

The inhabitants of this land and its surrounding seas
are pre-destined to return in the spring,
when the recess ends with rapid regeneration,

when continuous sunshine melts the permafrost
so that the wildflowers bloom through the gloom,
and the restoration of the great kelp forests
beckons home the humpbacks and salmonspawn.

Winter is coming to Sitka, but Autumn must precede it.

Close the harbor; we officially saw snowfall today.
The tuna, lobsters, and crabs have totally
retreated into the cloudy Pacific abyss.
However, nothing is amiss.

Alaska is ready for this cycle of death and renewal; it always has been.

As is mankind after seasons of frostbite and self-reflection.
Imagine the results of such a post-introspection resurrection:

Are they not unlike the first fruits of the Spring thaw,
released from bitter hardship by the sun's gentle warmth
and invigorated by survival's second wind?