Goddess Quintessence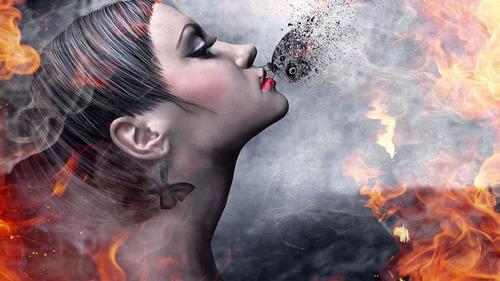 Love is an art,
the crafting of curiosity,
a prelude to passion's kiss
that levels mountains of risk
to piles of sand
along the hills
of the valleys' descent,
where the stream of fish
breaks into tributaries,
the capillaries of romantic wishes
that flow with auspicious
exchanges of molten riches,
the gold and diamonds,
heirlooms and keepsakes,
the offerings that kings make to queens
as their beholden mates.
Ravishing, everlasting,
lofty, gauntlets filled to the brim,
our dramatic entrance begins now.
Darling, you have no more need of him!
You can experience grander ceremonies
when you throw away the sources of acrimony
in this drama festooned with stony
pillars of light
that erect themselves in the night,
when habitual nonsense
says farewell to compliments
and all that is left is right
in front of you and I:
We, ourselves, lovers of life,
designing, refining,
creating and recreating,
the boundless and bountiful
sensations sans resistance
of the devotional and emotional
elements of forceless persistence,
heightened sensitivity
to effortless existence.
Bid adieu to gravity
as a canvas greeting paint
dismisses colorlessness
as unwanted covetousness;
the ocher smattered on the palette
meets the indigo on the medium,
smashing the tedium
left behind by romance restrained.
Sing with me unto the heavens,
where our cosmic coalescence
merges as a welcome presence,
Goddess Quintessence!